Most computers and storage drives still use the common SATA or PCIe 3.0 interfaces to sling your bits of data around, but if you're lucky enough to own a relatively modern PC, you might be able to upgrade to a solid-state drive (SSD) built on the insanely fast PCIe 4.0 protocol. We've tested several PCIe 4.0 SSDs and the best one to cross our labs thus far is the Corsair MP600 Pro XT in a field of tough contenders, though it's neck and neck with rivals from Kingston and Seagate.
"Considering the Corsair MP600 Pro XT's tantalizing combination of price, performance, and features, an Editor's Choice award was no-brainer," we said in our review. "Highly recommended."
Best PCIe 4.0 SSD: Corsair MP600 Pro XT
Enough said, really—though it's worth noting that Intel's 11th-gen "Rocket Lake" Core processors and 12th-gen "Alder Lake" processors also support PCIe 4.0 now, joining AMD's Ryzen 3000 and Ryzen 5000 desktop chips. PCIe 4.0 support is becoming commonplace on the latest PC platforms. You'll also need a compatible motherboard with PCIe 4.0 support. If you install a PCIe 4.0 SSD in a computer that lacks PCIe 4.0 support, the drive will operate over the slower PCIe 3.0 interface instead.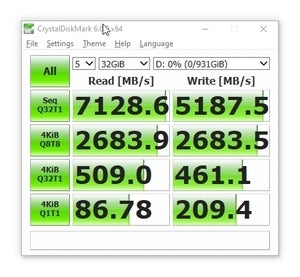 PCIe 4.0 SSDs are more expensive than their PCIe 3.0-based rivals—the Corsair MP600 Pro XT costs $185 for 1TB, $360 for 2TB, or $1,025 for 4TB of capacity on Amazon—but the difference in performance can melt your face. Traditional SATA SSDs top out at around 600 megabytes transferred per second, while our favorite PCIe 3.0 NVMe SSD, the SK Hynix Gold P31, ups that to 3.5GBps read and write speeds. The Corsair MP600 Pro XT blows both of those out of the water, exceeding 7GBps read and nearing 7GBps write speeds in our synthetic tests. Truly remarkable.
Those fantastically fast speeds make the biggest difference during file transfers. If you move a lot of data around, you'll love the Corsair MP600 Pro XT, which can blaze through those tasks before you know it.
If you mostly stick to gaming and normal day-to-day tasks, however, you may be better off with a standard SATA or PCIe 3.0 drive. Upgrading from a pokey mechanical hard drive to any SSD can give you a big quality-of-life increase with faster boot speeds, game loading times, and application performance. Most of those crucial benefits don't get tangibly faster if you opt for a PCIe 4.0 model over a slower (but still fast) SATA or PCIe 3.0 drive—though that could change when Microsoft's radical, Xbox-inspired DirectStorage API rolls out for Windows games later next year.
Fear not: Modern PCIe 4.0 SSDs won't die on you more quickly despite their blistering speeds. "The MP600 Pro XT is warrantied for five years," we said in our review. "That 1TB and 2TB capacities are rated for 700TBW (TeraBytes Written over the life of the drive) per 1TB of capacity, while the 4TB capacity is rated for 3000TBW. A nice little bonus on your thousand dollar drive!"
Runners-up
While the Corsair MP600 Pro XT is the best PCIe 4.0 you can buy, we've reviewed other exceptional options as well. The Kingston KC3000 and Seagate FireCuda 530 both deliver face-melting performance on par with Corsair's drive. That said, Seagate's drive costs quite a bit more, while the KC3000 is only regularly available through Kingston's website. The MP600 Pro XT's wider availability helps it earn our top recommendation.
Best for smaller capacities
You may also want to consider Samsung's 980 Pro, which dominated the earliest PCIe 4.0 SSDs. It's since been surpassed by the performance of second-gen PCIe 4.0 drives like the MP600 Pro XT, but the 980 Pro remains a compelling option, especially if you're looking for a lower-capacity SSD. Most PCIe 4.0 drives start at 1TB, but you'll find 256GB and 500GB versions of the 980 Pro available for $80 and $110, respectively, in addition to beefier capacities. Samsung's superb "Magician" SSD management software and long 5-year warranty remain second to none, as well.
Editor's note: Last updated to crown the Corsair MP600 Pro XT as the best PCIe 4.0 SSD, and update recommendations throughout.