Melbourne calling: Three reasons why you should visit it
Though I am a Sydneysider, Melbourne is closer to my heart. I admire its colonial architecture that flank the tree lined avenues.
Flinders Street Train Station (Source: Sandip Hor)Melbourne needs no introduction.
There has been already so much written and pictured about this second most populous Australian metropolis that even if someone hasn't touched its shores yet, the cityscape and its attractions aren't unfamiliar to them.
Though I am a Sydneysider, Melbourne is closer to my heart. I admire its colonial architecture that flank the tree lined avenues, love the leisurely tram rides and riverside walks, enjoy slipping through the back lanes, adore the cultural, art and literary scenes and relish the lively café atmosphere. More importantly I see there through my exploration shadows of Kolkata where I was born and lived a good part of my life.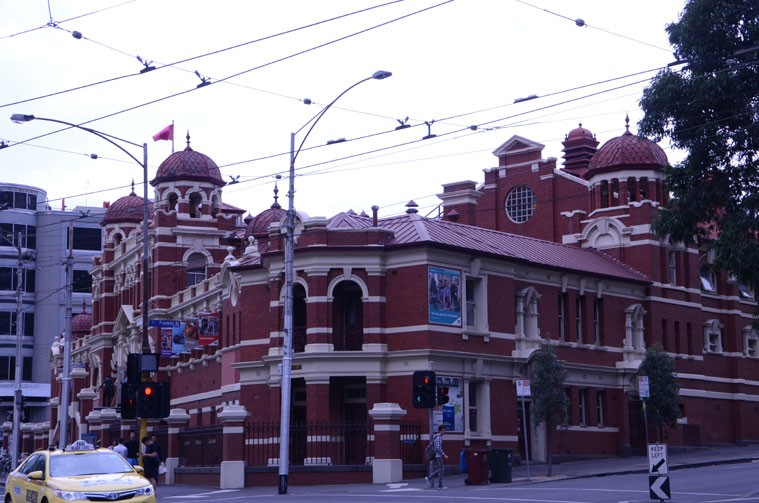 Colonial Architecture (Source: Sandip Hor)Pitched on plain land with rivers edging the cityscape, both cities are state capitals, rich in history and heritage and take extraordinary interest in creative elements of life from literature, theatre and cinema to food and wine. Trams as a part of the public transport system is surely a common link while cruising the Yarra River along the Botanical Garden have synergies with boating the Hooghly and going past similar surroundings.
This wonderful discovery takes me to Melbourne time and time again, like a child to the mother, most recently during the World Cup Cricket tournament when the city was bubbling with cricket fanaticism as does Kolkata during any significant sporting affair.
SPORTS
Making other Aussie cities envious, Melbourne boasts to be the sporting capital of Australia. In that context, the 90,000 capacity Melbourne Cricket Ground, colloquially known as MCG, can be judged as its parliament. Like Lords in London or Eden Gardens in Kolkata, it's a history laden stage for all major cricketing actions, from over 100 test matches to several one day and T20 internationals. This includes many of the current World Cup matches including the opening and final.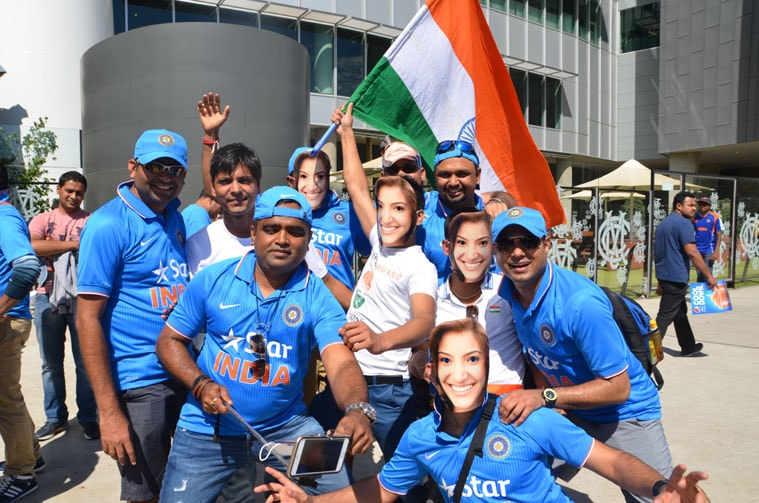 Cricket fans outside MCGI watched there the quarter final match between India and Bangladesh and the atmosphere was as electric as it would be in Eden Gardens during a significant game.
Since establishment in 1853, this arena has accommodated other events like the Olympic Games in 1956, Commonwealth Games in 2006 and myriad of concerts and shows. During winter, this ground hosts Australian Football League (rugby) club matches. The venue is then packed with roaring supporters, waving flags and banners of their teams. I am sure their intense exhilaration will remind any Kolkatan of the atmosphere during an East Bengal versus Mohan Bagan soccer match at the Eden Gardens or Yuva Bharati Stadium.
There are MCG guided tours available to give visitors the opportunity to sense some great sporting memories while going through the stands, pavilions, change rooms and the famous Long Room, an exclusive arena for the members. An interesting feature for cricket lovers is the Honours Board which displays names of cricketers who have either scored a ton or bagged five wickets in an innings at the MCG. Indians feel proud to see names of Gavaskar, Tendulkar, Kapil Dev and others sharing the long list with worlds top cricket legends.
If one's passion is sports, the best time to be in Melbourne is around December-January period because of the legendary Boxing Day Cricket Test starting the day after Christmas at the MCG and Australian Open Tennis Championship, the first Grand Slam competition of the year around mid-January at Melbourne Park, another famous sporting site located not far from MCG.
ART, LITERATURE AND THEATRE
But it's just not sports that makes Melbourne vibrant and lively. Like Kolkata, her love of arts, literature, theatre and cinema makes city-life bubbling with excitement. Any visitor will notice that high energy cultural exuberance almost in every corner of the city but distinctly when visiting the Southbank precinct where the Arts Centre and Southbank Theatre present productions of Melbourne Theatre Company, and the National Gallery of Victoria exhibit extensive collections from Europe, Asia, America, and Oceania. Or when stopping at the Federation Square where art meets architecture. Melbournians claim their city's cultural heart beats here like Kolkatans would say about their Rabindra Sadan quarter. Here one can experience art in many diverse ways at the Ian Potter Centre which presents Indigenous and non-Indigenous Australian art from the colonial period to the present day; admire the work of budding street artists at No Vacancy Project Space and explore the frontiers of technology at the Australian Centre for the Moving Image.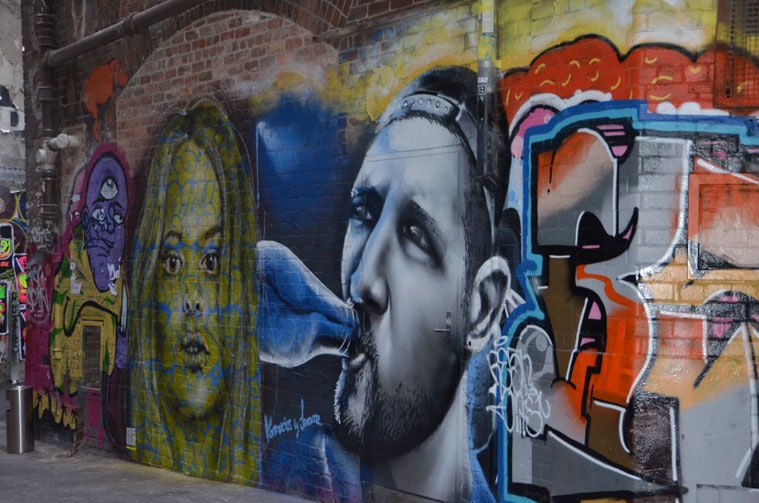 Art in a lane (Source: Sandip Hor)
Melbourne is known as one of the world's great street art capitals for its unique expressions of art. Generally comprising of spray painting, stencilling or murals works, it uniquely presents a feast of colour, ideas and energy. Some of the best examples around can be found at Hosier and Rutledge Lane, Union Lane and Literature Lane.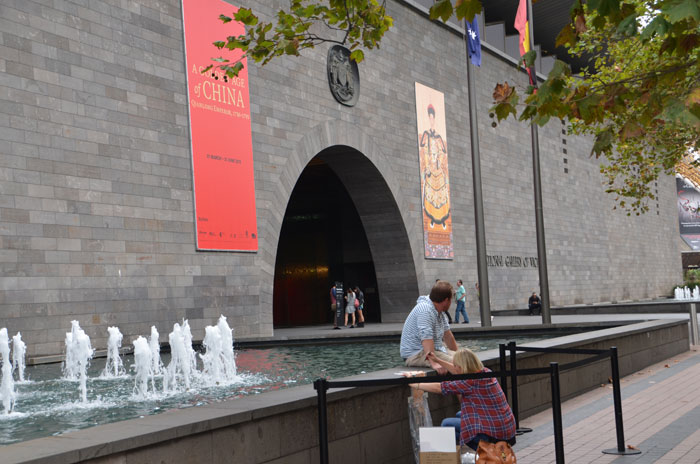 National Art Gallery (Source: Sandip Hor)CAFE CULTURE
What I find most appealing in Melbourne is the café culture, the city's obsession with coffee being well known. Locals love spending endless time in the café with friends chatting over different subjects from politics and sports to recent Oscar awards. Or to quietly read the newspaper or finish the last few pages of a best seller, taking a break only when sipping the coffee. The scenes are familiar reminding the atmosphere at Kolkata's legendary Collage Street Coffee House. Melbourne's well-known alleyways and arcades, which are an attraction by itself, are home to some of the best cafes in town particularly around Flinders Lane, Degraves Street or Centre Place Arcade. Visitors love spending time there to enjoy Melbourne's eclectic spirit and potpourri of cultural mix and cosmopolitanism.
Coffee time (Source: Sandip Hor)Melbourne is also full of bars and one of my favourite joint is the Cricketer's Bar at the Windsor Hotel which represents timeless elegance like the Oberoi Grand Hotel in Kolkata. In fact this property until recently was also owned and managed by the Oberois. Located at the Paris end of the city, overlooking the majestic Parliament House of Victoria, this 1853 built edifice is a treasured landmark of Melbourne and a venue for city's elites to meet, drink, dine, socialise and enjoy its stylish ambiance.
Mark Twain after visiting Melbourne in the late 19th century said "It is a stately city architecturally as well as in magnitude." Later visitors agree with this; some add more to it saying "Melbourne has something for everyone"'.
Fact File
Getting There – Air India, a member of Star Alliance, connects India with Australia direct with their new Boeing 787 Dreamliner aircrafts. There are daily flights from Delhi to Melbourne Departure from Delhi is in the early afternoon arriving Australia the following morning with almost the entire day available for touring.
Stay – No shortage of accommodations to suit budget, conveniently located Citadine Apartment Hotel on Bourke Street being popular with leisure and business travellers. Each of their contemporary serviced apartments is fully equipped with everything you need to live, entertain and relax in the city, including complimentary wi-fi.
Eating – Like Kolkata Melbourne is a cosmopolitan city, food wise as well, with spoilt for cuisine options. However if "desi-khana" is preferred there are plenty of Indian restaurants to choose from, few highly recommended are Bhoj located right in the heart of New Quay promenade at Docklands and Red Pepper  on Bourke Street near the Parliament House. Both serve mouth -watering North Indian dishes. Another one is Tonka that explore Indian techniques, although not being restricted by tradition.
Must See– Melbourne top view from the Skydeck at the 88th floor of 285m tall Eureka Tower  which offer the highest public vantage point in the Southern Hemisphere.
Day Tours from Melbourne –Even though the city has more than enough to keep visitors entertained no matter how long the stay is, it's well worth taking a trip out of town and enjoying some truly Australian sights most widely chosen is the Great Ocean Drive. While driving southwest along winding coastal roads from Melbourne rugged oceanic splendour and raw seascapes unfold at every twist and turn. Highlight of the trip is viewing the Twelve Apostles which are magnificent rock stacks that rise up majestically from the Southern Ocean. Best view of this ensemble is possible by taking a short helicopter ride.
Written by Sandip Hor | Sydney | SOURCE