The best IndyCar colorschemes from McLaren and Schmidt Peterson
Well, the classic McLaren papaya orange had to be featured, didn't it? Here's Johnny Rutherford the day after winning the 1974 Indianapolis 500.
Photo by: Indianapolis Motor Speedway
Rutherford's M16 carried Gatorade sponsorship in '75 and unfortunately 'only' finished second. The following year, he was back in orange… and back in Victory Lane.
Photo by: IndyCar
The minimalist colorscheme of 1977 and '78 suited Rutherford's McLaren M24 with its long, low sidepods.
Photo by: Bill Murenbeeld / Motorsport Images
The 1979 Budweiser scheme is shown here at Atlanta Raceway where Rutherford won both races in a double-header. They were the most recent McLaren Indy car victories – but we predict they won't be the last…
Photo by: Motorsports Hall of Fame of America
Indy Racing League cars aren't to everyone's taste but we reckon Richie Hearn's Sam Schmidt Motorsport Dallara-Chevrolet from 2002 is enhanced by this silver-and-red scheme.
Photo by: indyracing.com photo by Ron McQueeney
As Schmidt started prepping for a full return to IndyCar, he hooked up with Chip Ganassi Racing for Indy 500 "one-offs". None was more eye-catching than the 2009 Ganassi/Schmidt entry of Alex Lloyd.
Photo by: Andy Sallee
Another well thought through livery for Ganassi/Schmidt was this 2010 effort for Townsend Bell.
Photo by: Michael C. Johnson
After re-entering the sport by buying the remnants of the FAZZT race team, Schmidt adopted this classy – albeit subdued – livery for Alex Tagliani's car in 2011.
Photo by: IndyCar Series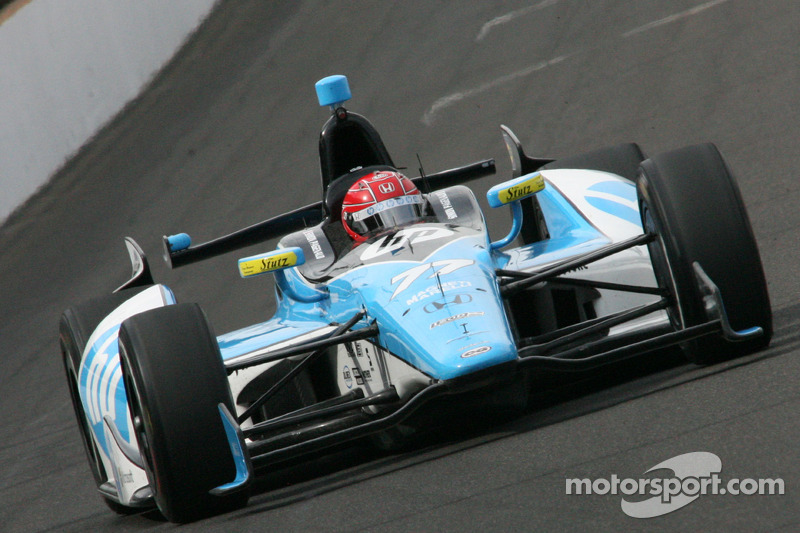 The Hewlett-Packard colors that Simon Pagenaud's Schmidt Peterson Motorsport-Honda carried in 2012 and '13 were very distinctive…
Photo by: Michael C. Johnson
…as was the Oculus colorscheme used at several races occasion in 2014.
Photo by: Chris Owens
The first year of the partnership with Arrow Electronics coincided with the clunky manufacturer aerokits, but the gold-'n'-black helped. This is Ryan Briscoe – subbing for James Hinchcliffe – at Mid-Ohio.
Photo by: David Yowe
The elegant Chris Beatty-styled Dallara IR18 looked particularly good in Robert Wickens' Lucas Oil livery in 2018.
Photo by: Michael L. Levitt / Motorsport Images
Arrow went for matte gold in 2019 as both cars (here, Marcus Ericsson is followed by Hinchcliffe) adopted the same colors.
Photo by: Phillip Abbott / Motorsport Images
Schmidt Peterson's partnership with McLaren for 2020 meant a welcome return of papaya orange which meant the Arrow McLaren SP-Chevrolet of Patricio O'Ward was particularly striking.
Photo by: Barry Cantrell / Motorsport Images